Where Artistry and Athleticism Meet
At Sora Aerial Arts we strive to build a strong, healthy, and close-knit community where we develop athletes & artists. Our programs inspire your creativity while also allowing you to meet and maintain all of your health and fitness goals.
To provide the highest quality services & classes for performative arts, fitness, and health.
FAQ - Frequently Asked Questions
We have moved! Our new studio is located at 170 Turner Commons Way, Suite 130. When you arrive at Turner Commons, drive past Battle Axes and you will see building 170. Drive to the back side of the building and you will find suite 130 at the end of the parking lot.
Classes range from $15-$30. Our memberships are the best value! Give us a call at (859) 813-2584 to learn more about our membership packages.
For aerial classes we recommend snug fitting leggings and a fitted tank top or t-shirt. For pole classes we recommend shorts and a tank top, t-shirt or sports bra. No zippers, buckles, rivets or jewelry please as they can damage the apparatuses.
Feel free to bring a water bottle, your yoga mat and a notebook or your phone if you'd like to take notes or record your progress!
We welcome students of all fitness levels! You will increase your strength and flexibility just by coming to class.
Not at all! At Sora we love to share our passion in front of audiences and we give all of our students opportunities to perform! However, we never pressure anyone into performing if they don't feel comfortable. We do provide resources to help students feel more prepared and comfortable if they choose to be part of a performance.
Sora is a judgment free zone! We have students of all ages, gender identities, fitness levels and from all walks of life. We strive to foster a welcoming atmosphere of acceptance, positivity and encouragement. We love being your biggest cheerleader!
The aerial registration fee is an annual fee of $50 that helps to offset the cost of our aerial insurance. The fee is required of all pole & aerial students and may be paid all at once for the year or split up into a quarterly auto-draft payment plan of $12.50.
If you are registered for a class we ask that you cancel at least 4 hours in advance of the class time. That will allow for us to fill your spot in the class if you are unable to attend. A late cancel fee of $5 will be charged for cancelling under 4 hours before (or no-showing) to a fitness class. If you cancel under 4 hours before or no-show to an aerial class you will lose your class credit.
To expose populations of people, young and old, to the aerial arts who wouldn't have otherwise been exposed to the art form, we offer FREE PUBLIC CLASSES.
We offer yearly scholarships for underprivileged youth to study circus arts at our facility. Interested?
Contact us to apply.
Sora Aerial Arts' Junior Company performs around the community several times per year, at a variety of events free and open to the public.
Artist in Residency Program
Sora offers an Artist-In-Residency Program. This is a 3-6month long residency for professional and pre-professional artists to come train, teach and develop a creative work (an act or show). The culminating creative project will be presented upon the conclusion of the residency.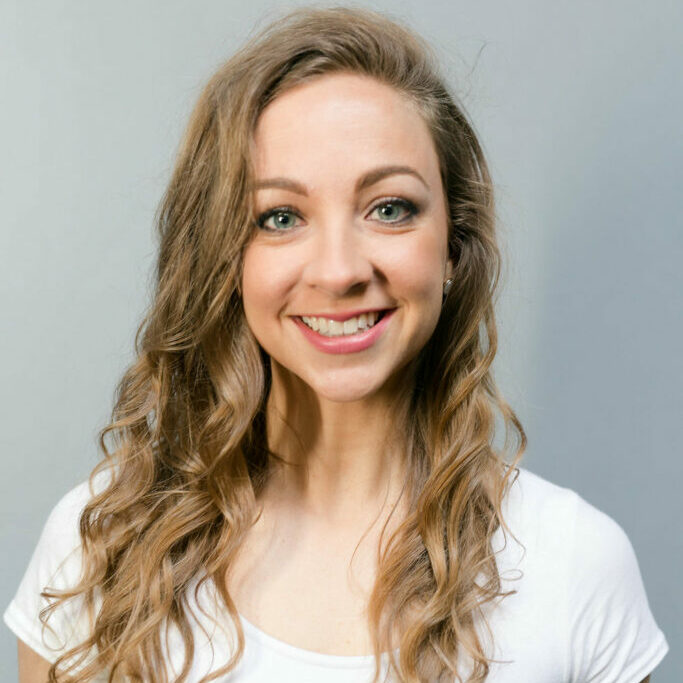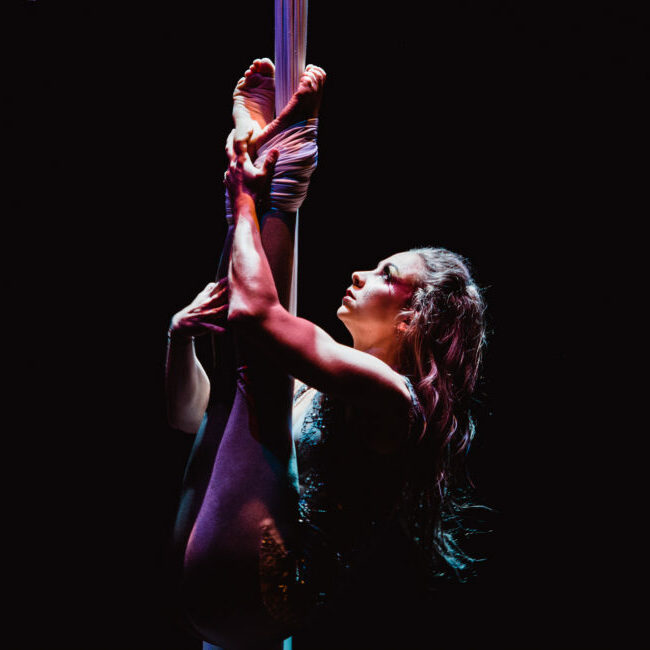 Jessica Johnson
Founder & Director of Sora Aerial Arts
Jessica is a seasoned, award-winning aerial artist and the founder/director of Sora Aerial Arts. Jessica started Sora in order to develop and encourage community, and to create programs that intertwined fitness and athletic performance with artistry and creativity. Jessica runs the Youth Programming at Sora, creates Sora's shows, and coaches classes in her main disciplines of Aerial Silks, Aerial Sling, Pole, Flexibility Training, Strength & Conditioning, Aerial Rope, and more.
Jessica performs and coaches both nationally and internationally, and works as an aerial teacher trainer with world-renowned aerial theater company, Paper Doll Militia under the direction of Rain Anya & Sarah Bebe Holmes. Jessica is a lifelong student and holds a long list of movement and aerial certifications and awards. As a choreographer and artist, Jessica is inspired by expressive art, energized by the process of creation, and driven to constantly generate new works with meaningful concepts and choreography.
Some of Jessica's accomplishments include: winning 1st place at the Motor City Pole Dance Competition in the Theatrics 'N Artistry Division in 2012 and being awarded "Best Theme", being a featured judge/performer/instructor at the Aerial Expo in both 2014 and 2015, being featured on national television on the Today Show for partner acrobatics, being a featured aerialist at the 2018 Atlanta Aerial Arts Festival, being a featured aerialist and choreographer for P!nk's 2019 "Beautiful Trauma" Tour Promotional Video, being a featured performer for Snoop Dogg's Mount Westmore Tour, being chosen as a mentor & teacher trainer for Paper Doll Militia's Aerial Arts Teacher Training Program, being head choreographer for the Circus Smirkus 2019 Big Top Tour for aerial silks and aerial pole, and continuously creating sold out aerial shows for our community since 2015.
Jessica enjoys teaching aerial arts to people from all cultures and from all walks of life. She loves creating aerial shows and fostering a true connection between performers and audiences. As a coach, her mission is to help students find and reach their highest potential, whether their goals are linked to fitness, health, athleticism, or artistry. She uses her technique training and boundless knowledge of this artform to make aerial movements approachable for all to succeed. Jessica loves sharing her passion for aerial acrobatics and fostering a supportive and uplifting environment at the studio for all students to thrive!
We offer lessons for every level and every age group. Our amazing instructors ensure everyone gets the attention they need. We teach individuals of all ages and levels. No prior aerial, dance, or fitness experience is needed.
Sora Aerial Arts started out as Bella Forza Lexington in 2013 when our Founder, Jessica decided to quit her full time job as a Special Education Teacher to take the giant leap of being a full time aerialist. She began the studio as the only instructor teaching Intro & Beginner Level classes using a few aerial silks hanging in a local gymnastics facility. The vision was to create a space that kept health and fitness at the forefront and embodied an uplifting community spirit by inspiring others to find joy, purpose and friendship through the aerial arts. The company expanded into its own facility in August 2014 increasing its offerings to various disciplines in Aerial Acrobatics, Pole Fitness, Aerial Yoga, Flexibility Training, Dance, and Group Fitness. With growing memberships and programs, the studio became a vibrant space for community, fitness and the arts.
Coming from Education, Jessica was determined to start a thriving Youth Program that focused on athletic development, character building and creative expression. After running kids classes for about a year and a half, auditions for Sora's Junior Company opened, with the goal of creating a positive space for youth in our community to grow, develop positive relationships and train at a pre-professional level in the aerial arts. The Youth Programs at Sora continued to grow through class offerings, summer camps, training and performance opportunities for both recreational and pre-professional youth students, ages 8 and up.
In 2015, Sora (then Bella Forza) debuted its first aerial theater production, Matilda, to sold out audiences. In subsequent years, the company performed studio-wide aerial theater productions with cast sizes of 50-75 youth and adult aerial performers, students and instructors alike. Past productions include Matilda, Wizard of Oz, WONKA, Anastasia, and The Aerial Nutcracker.
Through the successes of its shows, the company shifted from having a major focus on fitness into a space of sharing focus between fitness, creating, and performing which inspired the name change from Bella Forza Fitness to Sora Aerial Arts in 2017. The word Sora means "sky" and represents the limitless creative and physical potential that lives within each and every person.
Over the years, the company began to perform at various events and shows around the community and across region, setting in motion Sora's entertainment company, Sora Contemporary Circus which was officially developed in 2017. The Professional Company performs year round at corporate galas, concerts, events, and festivals across the region. Sora Contemporary Circus performed its first ever original aerial theater production, Utopia in theaters in its inaugural year, and In 2018 Sora was chosen as a featured performance group at the Atlanta Aerial Arts Festival performing a group aerial silks routine featuring company members Jessica Johnson, Allison Evans, Kate Girard, Lis Sanchez, and Alexis Allen. In the fall of 2018, Sora presented its first annual Halloween Aerial Variety Show, Night Circus in a local night club, and due to its huge success, has run the show each year since. Sora Contemporary Circus continues to innovate, create and perform original shows for our community and for events far and wide.
At Sora, you can learn to fly, become the strongest version of yourself, develop as a performing artist & athlete, improve your overall well being, create lasting friendships, and so much more. We have a passion for expanding our community and uplifting those around us through our classes and our art. We welcome people of all ages, abilities and body types to join our classes, and we invite you to come watch our shows! We put on several aerial theater performances, student showcases and community performances each and every year. We would love to see you at the circus as a participant or audience member!